"And they continued steadfastly in the apostles' doctrine and fellowship, in the breaking of bread, and in prayers...praising God and having favor with all the people. And the Lord added to the church daily those who were being saved" (Acts 2:42,47).
---
Founded in 1871, Barnesville Baptist Church sits among a stand of large white oaks in western Montgomery County, Maryland's Agricultural Reserve, near the burgeoning suburbs of the nation's capital.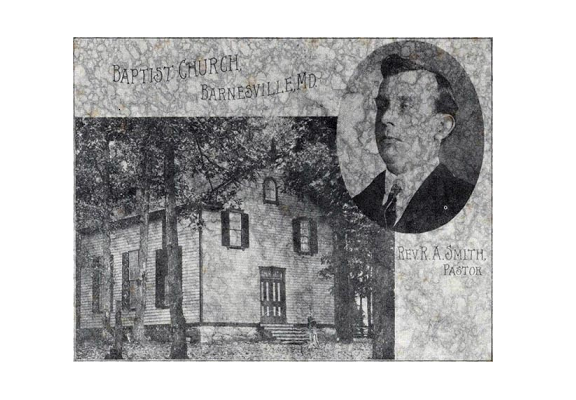 ---
About Barnesville Baptist Church
We are a traditional, evangelical Southern Baptist Church. Our members believe Jesus Christ is their Lord and Savior, and that the Bible is the inerrant and infallible Word of God. We fully concur with the 2000 Baptist Faith & Message.

We seek to follow the Great Commission by sharing the Gospel with all, discipling new believers, fellowshipping with each other, ministering to those in need, and worshipping God together. We look forward to the opportunities and challenges our Heavenly Father will place before us as we seek to serve His Kingdom.
About Worship
We offer opportunities to give glory and honor to the Lord throughout the week.
On Sundays, we study God's Word in Sunday School classes for all age groups at 9:30 am. The worship service begins at 10:45 am and ends about noon. We sing out of the Baptist Hymnal plus a few praise songs off the projector. Our service features opening prayer, responsive reading, offering, children's story, sermon, brief invitation, and a benediction. Children's Church and nursery are also offered on Sunday mornings. We celebrate the Lord's Supper once a month and hold baptism services whenever a new believer seeks to follow Christ's example.
On Tuesdays at 7:00 pm, the Choir practices to lead the congregation in singing. They also perform specials and solos of their own on Sunday mornings. The highlights of the Choir's year are their Christmas and Easter cantatas.
On Wednesday nights at 7:00, we have Bible study and a time of prayer.
On Thursdays at 7:00 pm, the Bell Choir practices for special concerts for Christmas, Easter, and Independence Day.
---
---
About Fellowship
Barnesville has a close-knit fellowship. With a membership of 150, BBC is big enough to offer a wide range of ministries yet is small enough so you can know everyone's name. Many extended family groups are represented in our pews, but over half of our members have joined in the last 10 years.
If you want to visit our congregation in person and experience the Christian friendship and fellowship Barnesville offers to a first-time visitor and a 60-year veteran member alike, we welcome you to join us.
Barnesville has a congregational form of government. Church members vote on major decisions and fiscal issues at monthly business meetings. A committee system supervises our educational, financial, outreach, administrative, and worship activities, and reports motions to the Church for its approval. The Pastor and Deacons attend to the spiritual oversight of the Church and search out new opportunities for service. Our Church values the spirit of unanimity and cooperation that characterizes our activities.
---
About Ministry
We value ministry at BBC because it allows us to invest our talents, time, and treasure into God's Kingdom through serving and blessing others. As we continue to support missionaries and missions, BBC is also expanding its own ministry reach in several ways. We are very excited about our new Food Ministry. Every Monday, BBC picks up still-good groceries from a local store that would otherwise have to throw the food out. Instead, we are able to help many families in the church and community as well as local homeless shelters, food banks, and firehouses.
We are sponsoring individual members to go on missions trips and small groups to engage in service projects. As we grow, we hope to send out larger groups on our own missions trips.
BBC has a deep, historic commitment to supporting missions, and punches well above its weight class in missions giving. Over the last few years, BBC has been recognized by the SBC, BCM/D, and MBA for supporting missions efforts through the Cooperative Program. The International Mission Board noted in 2013 and 2014 that BBC was among the top 4% of SBC churches giving to the Lottie Moon Christmas Offering. In 2014, BBC was recognized as the top-ranked Montgomery Baptist Association church in per capita missions giving to the Annie Armstrong Easter Offering. Over a third of BBC's annual spending supports outside missions and ministries.